Another Championship Season
Frozen Out
Well, I'm very disappointed that our season came to a halt in the Regional Finals of the NCAA Championship Tournament up in Minnesota.  To be honest, I've been fighting feelings of bitterness against outside issues/parties, and inner anger at myself.  But, after about 10 days, I've come out of that funk with a sense of pride in what our players were able to accomplish this season and a heightened degree of self-motivation to do better in 2011.
I've heard lots of complaining from our fans as well as neutrals about where the NCAA Tournament Committee sent A&M.  believe me, i know how you feel… As you know, the Aggies were the seeded team in at NCAA Regional which also included Minnesota, North Dakota State, and Creighton.  After beating NDSU in penalty kicks on Friday night we waited for Sunday's match against the Minnesota Gophers.  Then it started snowing… On Saturday 10 inches of wet sticky snow fell on the Minneapolis area.  There were over 400 traffic accidents, and power was lost for more than 25,000 people in the Minneapolis/St.Paul area.  Yet the UM grounds crew did an amazing job of plowing more that 82,000 cubic feet of snow off the game field prior to the Sunday match. 
On Sunday the Gophers came out and used their home field advantage to the fullest and upset the #9 Aggies.  They scored the first goal on a well finished corner kick.  Then they scored a 2nd goal late in the match when we were throwing numbers forward and two of our players fell down (twice each) before we could clear the ball out of our penalty area.
Our players never gave up and fought to the final whistle.  Congratulations to Minnesota.
A&M, UCF, and Wake Forest were the only seeded teams sent on the road that weekend by the NCAA Committee, and each of us lost in the regional final to the home team.
Another very successful year for the Aggie Soccer 
Texas A&M won its 11th Big 12 Soccer Championship trophy in 2010 – that's the most of any soccer program in the Big 12 and still the most of any team at Texas A&M.  Here's a little scorecard of the trophies won by the other soccer programs in the Big 12 to give you a full perspective:

Tech, OU, ISU = no trophies
Kansas + Baylor + Colorado =  1 trophy each
Missouri = 2
Texas = 3
OK State = 4
Nebraska will take their 8 trophies to the Big 10 next season
and Texas A&M = 11 trophies
After being runners-up in 2008 and 2009, A&M won the Big 12 Championship by going unbeaten in our final 9 conference games of the regular season.
Our seniors final act at a home game at the Aggie Soccer Stadium in 2010 was hoisting that trophy again, after a 1-0 win over OK State to clinch the Championship
Texas A&M ranked #2 Nationally in home attendance again in 2010. Even though our attendance was down by about 700 per game, more than 320 teams (and every team in the Big 12) fell behind the Aggies in support. Only Portland was ahead of us, as they set a new season attendance record of more than 47,000!  A goal of mine in 2011 will be to tweak some of the game day events and improve our on-field play so that we can set a new attendance record for the Twelfe Man in 2011
A&M advanced to our 16th consecutive NCAA Championship Tournament.  Only 5 programs have accomplished that in college soccer (North Carolina, Notre Dame, Virginia, Penn State, and your Aggies).
A&M was ranked in the national Top 10 virtually all season, climbing as high as #5 on 3 separate occasions.  The Aggies have now been ranked in the National Top 10 in each consecutive season since 1995.
We won or 300th match in program history this season
5 Aggies were selected 1st team All Big 12, by the conference's coaches – Defenders Rachel Lenz & Bri Young, Midfielders Rachel Shipley & Alyssa Mautz, and Forward Merritt Mathias.  That's the most players from one school since A&M did it back in the inaugural season of the Big 12 (1996).
10 Aggie Players were named to the Academic All Big 12 Team – Kat Armstrong, Kristin Arnold, Rachel Shipley, Rachael Balaguer, Carly Wohlers, Beth West, Nora Skelton, Nicole Ketchum, Mary Grace Schmidt, and Raven Tatum!
Rachel Shipley was named an Academic All American and is a Finalist for the Lowes Senior CLASS Award, signifying the national student-athlete of the year in women's soccer.
Let the Healing Begin
Injuries are a part of women's soccer which is very hard to plan for.  You fear it will happen, but hold out hope and do whatever you can in training and treatments to keep your players fit and healthy. 
It's unfortunate that so many of our key players suffered injuries and knocks through the season which forced them to miss practice and games.  And, in the end it was a key factor in our drop off in performance at the end of the season.
Following our road win over Mizzou, our team was never the same.  After that win we were on a 6 game winning streak and would go unbeaten in our next 4, but we were very banged up.  Merritt Mathias suffered a concussion in that match and would miss the next 3 games and many practices – she wouldn't score another goal all season.  Whitney Hooper carried a knee injury for the last 8 games of the year which forced her to miss most training sessions and kept her at bay in matches – she didn't have a goal or assist in those last 8 games.  Beth West suffered a hip injury which only allowed her to play limited minutes in the remaining Big 12 games and then we had to shut her down for the NCAA Tourney.  Mary Grace Schmidt suffered a back injury which didn't allow her to finish the Mizzou game and she played on and off, through very much pain, for the rest of the year.  Bri Young was lost to a knee injury in the Big 12 quarter-final match and missed the OU, NDSU, and Minnesota matches. Amber Gnatzig went down with a knee injury in practice prior to the NCAA Tourney and missed both games in Minnesota.  Last year's offensive MVP, Katie Hamilton (knee injury in preseason) missed the entire season, while Jen Kmezich (Concussions) and Shawn-tae Greene (lower leg) took medical hardships which ended their careers just before preseason started.
If we had one lucky break it was the fact that even though both of our goalkeepers were hurt this season, they were down at different times – Kelly for the first 8 games of the year and Kristin through the Big 12 portion of the regular season.  Both were fit for the post-season and each came up big as we won 2 games in shootouts in the post-season.
So, now that we are officially in the off-season portion of our academic year, it's finally time for many of our players to get full rest as they rehabilitate their injuries incurred this season.  Meanwhile, my staff and I will be looking to do anything and everything in our powers to lower (and hopefully eliminate) the rate of injury to our players.
Camps at A&M in December
Looking for a great weekend of soccer this December?  Well, I think we have something for you and your team…
This December 18 and 19 we will be offering 2 new camps at Texas A&M… A College ID Camp for high school aged boys and girls and a Super Youth Camp for boys and girls ages 8-13.  Both of these camps utilize the great facilities at Texas A&M and will be directed by my full time coaches and many of the same great coaches that work with us in our summer camp program.
You can learn all about the camps and sign up online by visiting www.aggiesoccercamp.com
Here's a quick description of each camp:
The College ID Camp – December 18-19, 2010

Girls and Boys ages 14-18
Genders are trained separately
Specific Field Player and Goalkeeper Camps are part of this camp
Campers are trained by college coaches
Curriculum provides a college level experience and evaluation
State of the Art Soccer facilities used on the Texas A&M campus

The Super Youth Camp – December 18-19, 2010

Girls and Boys ages 8-13Genders are trained separately
Fun, educational soccer exercises and games are taught
Outstanding Coaching Staff of top college, youth, and licensed coaches
State of the Art Soccer facilities used on the Texas A&M campus 
Specific Field Player and Goalkeeper Camps are part of this camp
Just go to www.AggieSoccerCamp.com to register your player or team TODAY!!!!
NCAA Tournament Update
There have been many HUGE upsets in this year's NCAA Tournament.  Three of the four #1 seeds have been eliminated and only 3 of the Top 8 seeded teams have advanced to the Elite Eight!  Truth be told, the seeded teams were not given the most favorable paths to the College Cup, like you'd expect from a seeded National Championship Tournament.  But, this tourney has produced some incredible drama…
In the first weekend of the Tournament, the home teams were dominant.
13 of the 16 seeded teams played at home
All 3 of the seeded teams which lost their home field advantage by travelling (A&M, UCF, and WF) lost on the road
Two #1 seeds fell in Penalty Kick Shootouts (Portland to rival Washington and Maryland to cross-town rival Georgetown)
One #2 seed fell in a Penalty Kick Shootout (unseeded Duke upset Florida)
In the Sweet 16, there were several surprises
Notre Dame Beat North Carolina in Chapel Hill 4-1 – worst UNC loss in 30 years
Georgetown beat Minnesota 1-0, scoring directly from a corner kick with 44 seconds remaining in match
Ohio State upset Virginia in Charlottesville 3-2
Stanford and FSU cruised to 3-0 victories over UCLA and Marquette
Boston College beat West Virginia 4-0
Washington beat UC Irvine 1-0 in Double OT
OK State beat Duke 2-0 in Stillwater to advance to their first Elite Eight, congrats and good luck to them!
So, it looks like well have at least 2 new teams in the College Cup this year – the winner of the Georgetown-Ohio State and UW-BC games.
Here are the matchups in the Elite Eight:
Friday – Georgetown at Ohio State; 4pm central time
Friday – Notre Dame at OK State; 7pm central time
Friday – Florida State at Stanford; 9pm central time
Saturday – Washington at Boston College; 3pm central time
Expanding the A&M Soccer Brand
Recruiting continues to go very well for Texas A&M soccer as we work to "Build Champions" from within the program and continue to make our program more attractive to the very best young players in the nation.
A&M coaches will be on the road a lot over the next 5 weeks, attending games, tournaments, our camps, and showcase events all around the United States.
The group of players which will sign with A&M in February of 2011 is shaping up to be a very strong class; some would argue that it will be one of the best recruiting classes ever to come to A&M.  I'm confident that many of them will be able to step right in and do very big things for us immediately.  That class includes some of the very best players in America – from within Texas and from many of the most celebrated and successful club programs around the American soccer map.
We are lucky to be located in Texas – a soccer rich state, where we can recruit many of the best players in America right here in our borders.  As someone who was raised as a soccer player in Texas, I do have a lot of pride in what our state develops.  But, I'm not basing our recruiting purely on what state a player has her driver's license from.  The number of top national level players from Texas varies from year to year, and we want the best players in America every year.  So we're always looking to bring in a number of players who've already played and won at a nationally competitive level, yet still have a capacity to improve as a college player and help us win National Championships in Aggieland.  We base our recruiting on that national level, not in-state and out-of-state.  So, we often will pass on players all around the country because we are chasing a higher level or different type of player someplace else in America.
The few teams that have won National Championships do have some players from our state, but they also have lots of other players from other great soccer hotbeds like California, Illinois, Arizona, Colorado, the states of the Midwest, Northwest, and the East Coast.  We have consistently brought in national level talent to A&M, but our staff is working to improve our brand around the nation to open up and keep open the soccer pipeline from the richest veins of talent in America directly to the Aggie Soccer Stadium.
What a Night!
I don't know if you were one of the lucky ones to have been in attendance at Kyle Field this past Saturday night for the Aggies big win over #8 Nebraska.  They only could let in 90,079… Kyle Field only seats about 83,000.
More than 30,000 in attendance were A&M students.  That's a new national record for student attendance at a college sporting event in America.  And, those weren't any students… It was the 12th Man!
Here is a You Tube Video that was shot by a student at the game.  It gives you a little bit of an idea of what the support is like for texas A&M athletics from our student body… Just incredible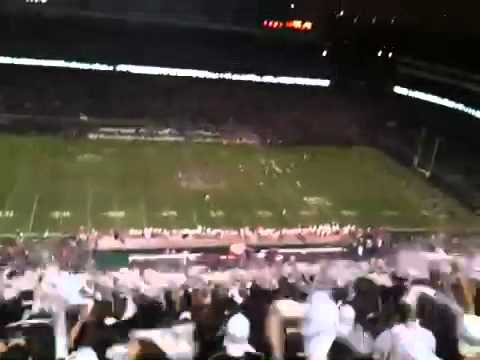 I hope you have a very Happy Thanksgiving – Coach G